This Wed Sept22 we have a special treat for you. Cherry Poppin hosts the record and book release party for Stones Throw's Bruce Haack Farad: The Electric Voice and Dave Tomkins book How To Wreck A Nice Beach (The Vocoder from World War II to Hip-Hop)
From Afrika Bambaataa to Zapp to Guy to left field rarities, all vocoder music will be featured all night long by selectors PEANUT BUTTER WOLF, J.ROCC, BRUCE HAACK and DAVE TOMKINS.
This is going to be an event like no other. An inspired journey of the musical history of the vocoder. This event will fill up quickly so early arrival is strongly suggested.
**Special free invite b4 11pm and $5 after w/ cherryrsvp@walktalkin.com**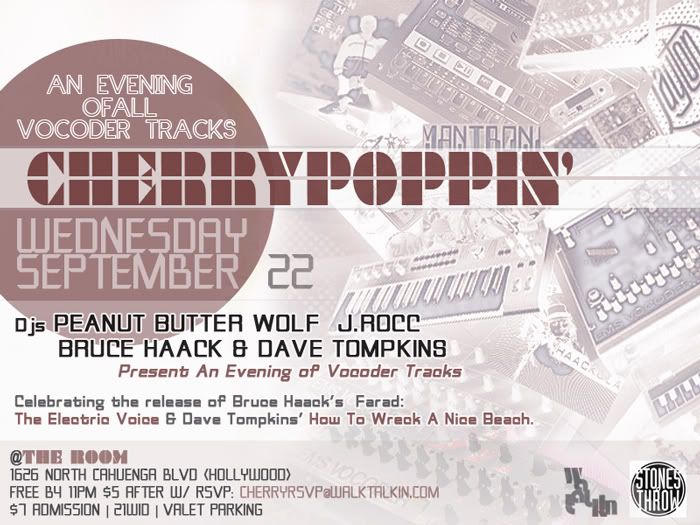 CHERRY POPPIN'
WEDNESDAY SEPTEMBER 22
An Evening of All Vocoder Tracks
DJS
PEANUT BUTTER WOLF
J.ROCC
BRUCE HAACK & DAVE TOMPKINS
Celebrating the release of Bruce Haack's Farad: The Electric Voice &
Dave Tompkins How to Wreck a Nice Beach
@The Room (Hollywood)
1626 North Cahuenga Blvd
Free b4 11pm, $5 after w/ RSVP: cherryrsvp@walktalkin.com
$8 admission | 21w/ID | Valet parking available.
**********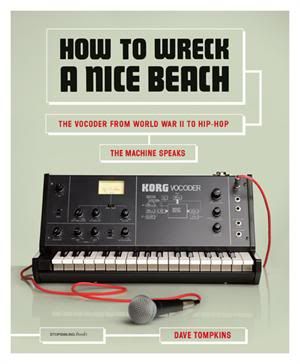 DAVE TOMPKINS
"HOW TO WRECK A NICE BEACH"
The vocoder was invented to improve telecommunications in the 1930s and re-purposed by the military to mask speech among officials during World War II. By the 1980s, artists like Afrika Bambaataa and Zapp began using it as a musical instrument. The sound caught on and has remained one of the most influential movements in music to this day, although Auto-Tune (not included on the list), has mostly replaced it. Writer Dave Tompkins is somewhat of a vocoder historian; the legendary music journalist wrote a book this year, How To Wreck A Nice Beach, chronicling the machine's history.
Bruce Haack
Farad: The Electric Voice
Description: The vocoder-based recordings (1970-1983) of electronic music pioneer Bruce Haack.Farad: The Electric Voice includes out of print and un-released tracks and specifically focuses on tracks using Haack's self-made vocoder, which he named "Farad." This was the one of the first truly musical vocoders, and first to be used on a pop album, pre-dating Kraftwerk's Autobahn by several years.