Its that time of year again when the LA and So.Cal underground come together for one special night. This is the people's party so we ask everyone to do their part and forward this invite to your friends. "One of us is not as strong as all of us" DJ DUSK
12th Annual THANKS GIVENDS Benefit
Annual fundraiser benefiting organization that help promote arts programs for disadvantaged youth in our community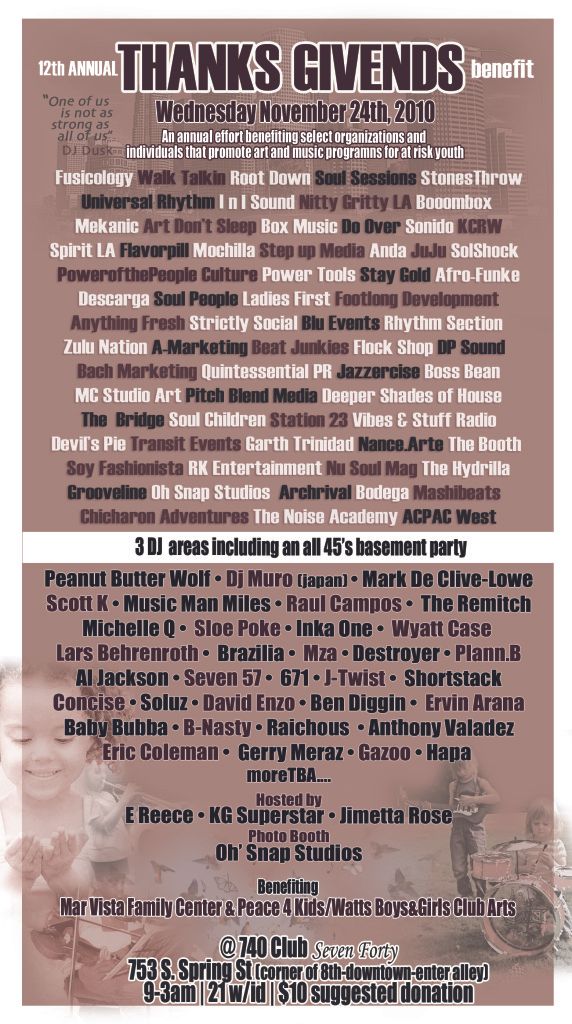 Fusicology – Walk Talkin – Root Down -Soul Sessions – StonesThrow – Universal Rhythm – I n I Sound – Nitty Gritty LA – Booombox – Mekanic – Art Don't Sleep – Box Music – Do Over – Sonido – KCRW – Spirit LA – Flavorpill – Mochilla – Step up – Media – Anda – JuJu – PowerofthePeople Culture – Power Tools – Stay Gold – Afro-Funke – Descarga – Soul People – Ladies First – Footlong Development – Anything Fresh – Strictly Social – BluEvents – Rhythm Section – Zulu Nation – A-Marketing – Beat Junkies – Flock Shop – Bach Marketing – Quintessential PR – Jazzercise – Boss Bean – MC Studio Art – Pitch Blend Media – Deeper Shades of House – The Bridge – Soul Children – Station 23 – Vibes & Stuff Radio – Devil's Pie – Transit Events – Garth Trinidad – Nance.Arte – Soy Fashionista – RK Entertainment – Nu Soul Mag – The Hydrilla – Grooveline – Oh Snap Studios – Archrival – Bodega – Mashibeats – Chicharon Adventures – The Noise Academy – ACPAC West – SolShock – The Booth – DP Sound
3 Dj Areas including the all 45's basement party
DJs:
Peanut Butter Wolf • Dj Muro (japan) • Mark De Clive-Lowe
Scott K • Music Man Miles • Raul Campos • The Remitch
Michelle Q • Sloe Poke • Inka One • Wyatt Case • Gazoo
Lars Behrenroth • Brazilia • Mza • Destroyer • Plann.B
Al Jackson • Seven 57 • 671 • J-Twist • Shortstack • Hapa
Concise • Soluz • David Enzo • Ben Diggin • Ervin Arana
Baby Bubba • B-Nasty • Raichous • Anthony Valadez
Eric Coleman • Gerry Meraz • Jeremy Sole • Glenn Red
moreTBA….
Hosted by
E Reece • KG Superstar • Jimetta Rose
Photo Booth
Oh' Snap Studios
Benefiting
Mar Vista Family Center & Peace 4 Kids/Watts Boys&Girls Club Arts
@ 740 Club Seven Forty
753 S. Spring St (corner of 8th-downtown-enter alley)
9-3am | 21 w/id | $10 suggested donation
••Please Arrive early to support all the DJ sets••
About the Organizations:
Mar Vista Family Center
The mission is to provide low-income families with quality preschool education, youth enrichment, and educational tools to create positive change in their lives and in their communities. Every program adheres to the basic premise that it is critical to empower children, teens and adults to play vital and responsible roles – as decision makers, community leaders, mentors, classroom volunteers, and fundraisers – at MVFC.
Peace4Kids.org/The Watts Boys and Girls Club
Provides programs and services for foster and at-risk youth from ages 5-18, and after emancipation until age 24. Peace4Kids is truly on the front lines in addressing the needs of foster and at-risk youth in the South Los Angeles neighborhoods of Watts,
Willowbrook and Compton. They create a strong foundation
through programs focused on creative expression and life
skills, allowing our kids to discover their unique voice and
limitless potential for success.