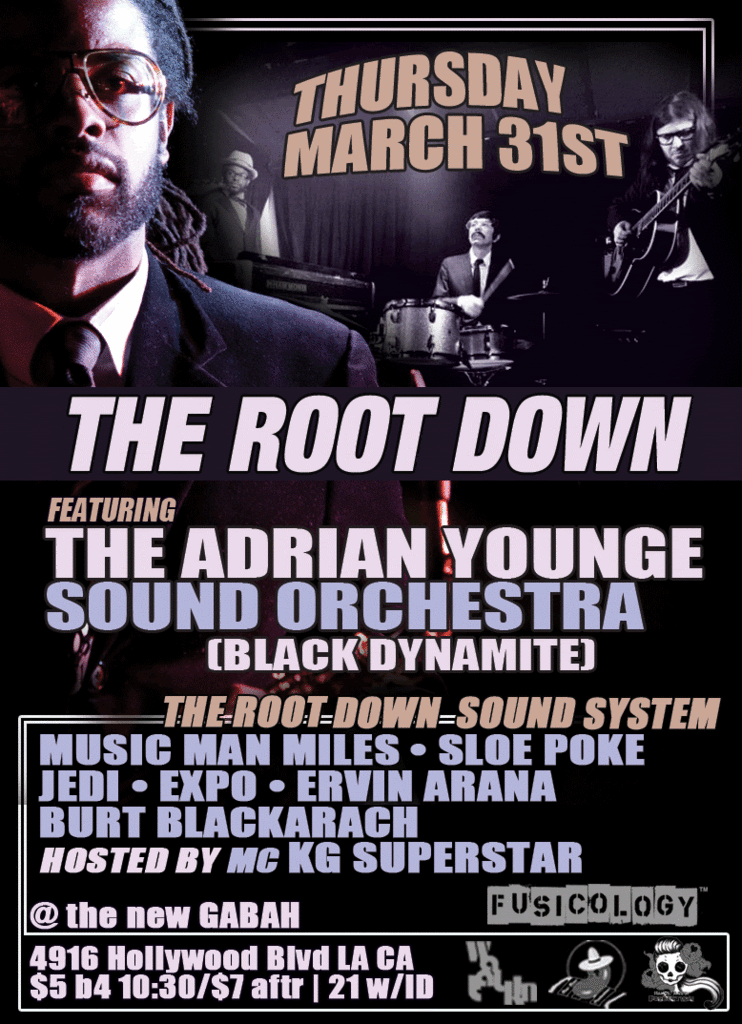 The events biz has changed quite a bit in the past few years. Party goers have been tighter on their budgets and choosier on what they want to experience. Even the Root Down, going on 13 years and one of the originals of the under ground soul, funk and hip-hop has had to adjust to the changing climate.

What does get people coming is quality and consistency which is the main reason why The ROOT DOWN has survived for so long. Now RD has shifted from a weekly to a periodic special event and on MARCH 31st it returns featuring THE ADRIAN YOUNGE SOUND ORCHESTRA aka BLACK DYNAMITE live on stage.
About:
Multi-instrumentalist Adrian Younge makes his debut on Wax Poetics Records with his original score to the Michael Jai White comedy, Black Dynamite. Inspired by the great blaxploitation soundtracks of the 1970s, Younge commands the Rhodes electric piano, Hammond organ, Hohner Clavinet, harpsichord, synthesizer, vibraphone, guitar, bass, flute, sax, cello, and drums, crafting with a singular vision. Whether it's the witty vocal of "Jimmy's Apartment" or the lowdown bass line of "Rafelli Chase," the entire album is deeply authentic.
There will be two rooms in action with resident Djs SLOE POKE, MUSIC MAN MILES, ERVIN ARANA, JEDI & EXPO putting it down RD style.
THURSDAY MARCH 31st
@GABAH
4916 HOLLYWOOD BLVD (Just west of Vermont)
$5 b4 10:30/$7 after | 21 w/ID
Further inquiries: Info@rootdownclub.com