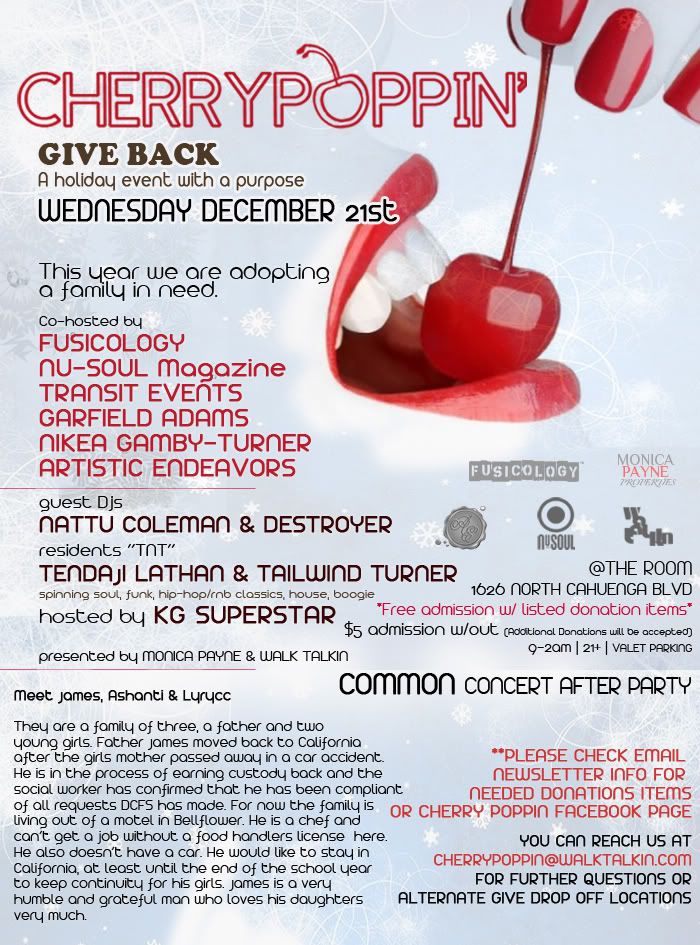 With many individuals still out of work and families in need non-profit community based organizations are feeling the pinch this year with record low donations. This probably means many of us are living month to month with very little extra to spend. Sometimes being smarter about how you spend will give you a little breathing room and helps restructure what matters in your life.
While many of us can make minor adjustments to give us a little more financial freedom some of us need a major boost to just keep a float. Cherry Poppin with co-hosts will celebrate this years success with a little give back event in support of a family in need that came to our attention a week ago. We hope you join us but if you can't attend or don't live in the area we ask that you consider donating to any organization that you feel close to especially this time of year. Every little bit goes a long way.
CHERRY POPPIN
GIVE BACK
A Holiday Event with a purpose
Wednesday December 21st
We are adopting a family in need…
Co-Hosted by
FUSICOLOGY
NU-SOUL MAGAZINE
TRANSIT EVENTS
GARFIELD ADAMS
NIKEA GAMBY-TURNER
ARTISTIC ENDEAVORS
Guest Djs
DESTROYER & NATTU COLEMAN
residents TNT
TENDAJI LATHAN & TAILWIND TURNER
@THE ROOM
1626 North Cahuenga Blvd (Hollywood)
Free admission w/ donation items listed
$5 w/out additional donations will be accepted
9-2am | 21+ | Valet and self parking available
*COMMON concert after party*
Can't make the party? Email us at cherrypoppin@walktalkin.com for donation drop off information.
————————–———-
About the Family
Please meet James, Ashanti & Lyrycc…
They are a family of three, a father and two young girls. The girls' mother, separated from the father, was living in Southern California with the girls. This past April, she was in a car accident and passed away. James, their dad, immediately came out from Texas (where he's from) and has been here since trying to earn custody of the girls. The social worker says that he has been compliant with all the requests DCFS has made and there has been no issues whatsoever. They're expecting the case to close sometime in January. If James can manage to get an apartment and a job, things he has been working on but hasn't had much luck with, he will stay here in CA at least until the end of the school year so the girls have some continuity (they already had to move schools once since he has been here). They are currently living in a motel in Bellflower and the social worker said James is given bus/metro fare to get around since he doesn't have a car. He's a chef and is trying to get funds to pay for his food handling license in California so he can get a job.
James came across as a very humble and grateful man who clearly loves his daughters and is doing everything within his means to provide a family life for them. The girls both are very sweet and funny.
This is what the family requested help with and are grateful for second hand items.
James (Dad)
Wishlist: Clothes and Shoes
Shirts: XL-2XL (would like button downs and polos)
Pants: W 38″, L 32″
Shoes: 10.5 (would like tennis shoes or boots)
Colors: Basic neutral (black, grey, navy, etc.), doesn't like bright colors
Ashanti
age: 9 1/2
Shirts: size 12
Pants: size 12
Shoes: 5.5-6
Favorite colors: Pink and Purple
Hobbies: Coloring, drawing, singing, and reading (She has read a few books in the Ramona series…Beezus & Ramon, Ramona the Brave, and Ramona Age Eight)
Wishlist: Cece & Rocky dolls, Crayola Spin Art, Cool Creation
Lyrycc
age: 6 1/2
Shirts: 5-6
Pants: 5-6
Shoes: 13
Favorite colors: Pink and Purple
Hobbies: Snowball fight, drawing & math
Wishlist: Cece & Rocky dolls, EZ Bake oven, Cool Creation
Household/Personal items needed:
Pots and pans
Dishes
Utensils
Cooking utensils
Toaster oven
Undergarments & socks for the girls
Gift cards:
We believe the most beneficial gifts for this family would be gift cards from…
Vons, Ralphs, Albertsons, Target, JCPenney, Sears or any national chain stores
OR if you have a used car just sitting in the garage that you can part with