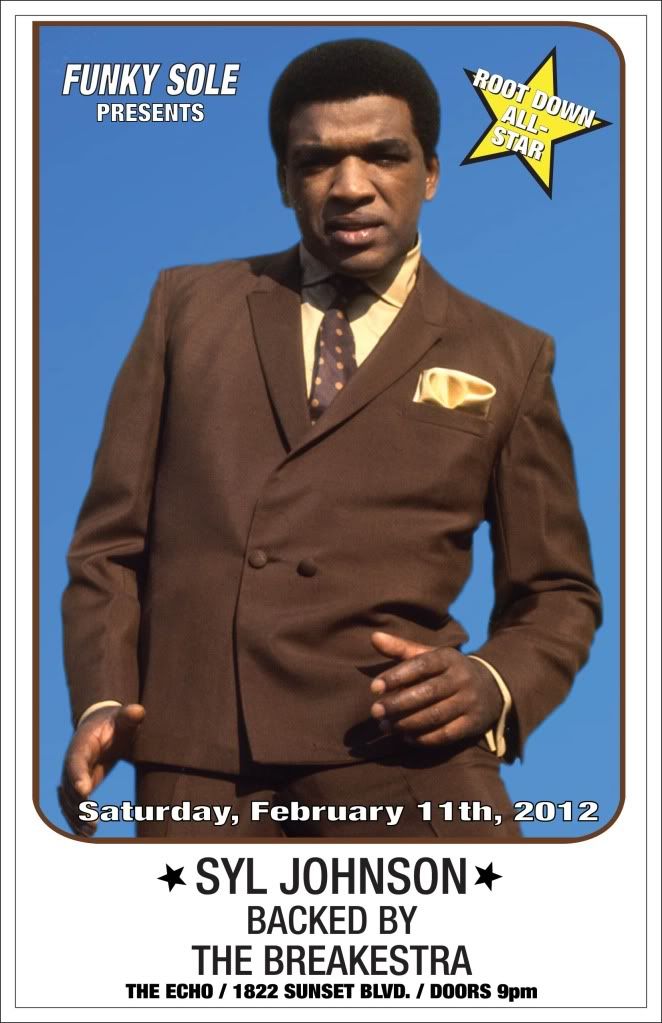 by MUSIC MAN MILES
After some years of failed attempts, my dream of bringing Syl Johnson out to perform with Breakestra backing is finally a reality.
I like many thousands of hip hop djs & fans first heard Syl Johnson's 1967 breakbeat classic "Different Strokes" as a teenager on the Ultimate Breaks & Beats bootleg compilation which was the source that most hip hop beat makers sampled the song from. The first of many samples of that song with it's signature grunt & young Minnie Ripperton giggling in background over open drums seems to have been Boogie down production's "Criminal Minded" & Public Enemy's "Miuzi Weighs a ton" in 1987 & then of course most famously there's Wu Tang Clan's "Shame on a Nigga" which samples the blazing horns of the bridge part. Recently Kanye & Jay-Z sampled the song without clearance (oops) for their track "the joy" again bringing light to this classic song that does not seem to want to leave the turntable or sampler. here's the classic track that turned many of us on this master of soul!
In the broader picture outside of hip hip, many more thousands of folks around the world know Syl for his deep catalog of varied R'n B music going back to the late 50's & on. His funky soul records in particular were definitely been a big part of my getting into collecting & spinning records. with great honor & pleasure Breakestra will bring some of Syl's sounds alive on stage for the first time in L.A. in over 30 years.
The show is also a celebration of the amazing 2 time grammy nominated Numero Group release – Syl Johnson Complete Mythology box set. GO GET IT! This is a night not to be missed!
Saturday Feb. 11th- FUNKY SOLE presents Chicago soul legend Syl Johnson backed by the Breakestra! *followed by Funky Sole djs Miles, Clifton & guests the Numero Group djs*
9 pm doors. $15 online at ticketweb or day of
@ the Echo
1822 sunset blvd.
L.A., 90026
check the bio below for more in depth details about Syl's story….

Sylvester "Johnson" Thompson – vocals, guitar, harmonica, producer- Syl was born in Lamar, Mississippi July 1, 1936 to a family that exposed him to the sounds of country blues & gospel early on. Syl sang as a child & soon after would sneak his way onto his brother's guitar. A few years later he would see B.B. King live & hear the sounds of Memphis' WDIA which hooked him on r & b. In the mid 40s Syl's father Samuel headed north to Chicago for work & in 1950 he, mother Erlie & the family followed. After arriving in Chi he met his neighbor, a teenaged "Magic Sam" whom Syl & brothers Sam & Mack would jam with. Around '55 Syl made his club debut playing harmonica with "Shakey Jake" Harris & then moved onto guitar. His first session was in '56 backing "Billy Boy" Arnold. Syl paid dues backing local artists in studio & the clubs on guitar mainly for a few years & then in '59 after getting an offer by Vee Jay records to cut a song himself he quickly came cooked one up with Howard Scott. Syl recorded a vocal demo of the song & then on his way to Vee Jay saw the King records sign & on a lark walked in where he played the demo for an a & r man in the lobby. King signed him & released "Teardrops" on the Federal subsidiary in '59 under the name Syl Johnson which the label chose. After 10 years of trying different labels, in '67 he released the gritty soul bomb "Come on sock it to me" on his Twilight label. The record blazed across the airwaves & put Syl on the national map. In '68 he released the breakbeat classic 7 inch "Different Strokes" which was sampled first by Boogie down productions on "Criminal Minded" & famously by Wu Tang on "Shame on a nigga". Note that the intro features a young Minnie Ripperton giggling over the drums. "Strokes" 7s went flying out the door. During all this he visited Willie Mitchell in Memphis & soon after set up shop at Royal studios with the Hi sound band & Mitchell at the board. "Dresses too short" was his first lp & the stomping single of the same name was the first release from one of the most solid r&b/soul lps ever recorded. In '69 in need of a new band to record his 2nd lp in Chicago he found the funk heavy Pieces of Piece band. He brought them in to write & record the heavy, socially conscious "Is it because I'm black" lp. Syl who earlier had started Shama records for his own artists was also producing acts for Twinight. After releasing more Twinight singles, by 1971 he was ready to try another setting. He reconnected with Mitchell's Hi Label & signed on, releasing lps until '80. Syl has been making music steady up to present date & touring the world, blessing us with his unique, soulful sounds. Numero group's "Complete mythology" box set contains most of his vast catalog.