One of the ultimate feel good parties of the year is going down this Saturday. SOUL-SLAM with DJ SPINNA playing a special 4 hr tribute set of these legendary icons. This event centers around the honoring of two of the most eclectic and innovative artists to date, Michael Jackson and Prince! From the inception of this concept back in 1999 the response for SOUL SLAM has been enormous. DJ Spinna sets the tone of this event as he lays down track after track from both MJ's and Prince's extensive music catalogues along with tracks of their cohorts,i.e.; Jermaine Jackson, Vanity, Janet, Sheila E., J5, The Time etc.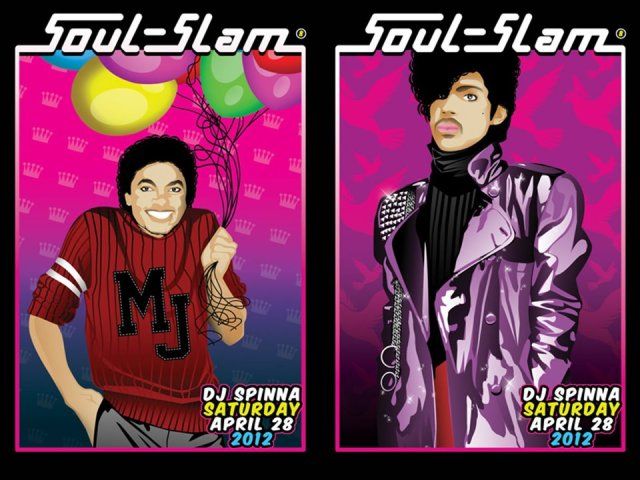 FOOTLONG DEVELOPMENT & KEISTAR PRODUCTION Present
The Original Prince & MJ Party…
SOUL SLAM 8
Celebrating The Life & Legacy Of Two Of Our Greatest Icons!
MICHAEL JACKSON & PRINCE
DJ SPINNA
(Wonderwax,BrooklynBandits)
OPENING SET BY MONALISA | HOSTED BY COGNITO (FROLAB)
LIVE SCREEN PRINTING BY FAMILY INDUSTRIES

Limited Tickets & Mix CDs Available now online! | Presale: http://wantickets.com/soulslam8
$11 Presales, $15 Door
'PRINCE WROTE IT' DJ SPINNA MIX CD
& 'BACK TO INDIANA'(JACKSON5 MIX)' DJ SPINNA MIX CD
ECHOPLEX: 1154 GLENDALE BLVD.[AT SUNSET] LA, CA 90026
9PM-2:30AM 21 $15 AT THE DOOR | EARLY ARRIVAL SUGGESTED!
DJ SPINNA (NY)
DJ Spinna is something of an anomaly in music. A humbling example of what it takes to truly succeed within the framework of multiple fields. A steadfast work ethic, an obsessively extensive vinyl library and the willingness to pursue the full extents of his roots (Funk, Soul and Jazz), foundation (Hip-Hop) and future (Electronic/Dance music) with no restraints. Everyone from Mos Def, Talib Kweli to Pharaohe Monch boasted Spinna beats to prove their worth to the scene. With so much studio work, it's a marvel Spinna travels as much as he does. The constant, globe-trotting performances he's become equally famed for have brought the DJ as far as Iceland, Australia, and South Africa as well as countless jaunts through England, Europe and the U.S. Not to forget, his hugely successful tours of Japan, where Spinna is held in the highest regard throughout the country for his craft in music. Not always the lone crowd-controller, Spinna's collaborated on stage alongside contemporary luminaries like Gilles Peterson, Jazzanova, Joe Claussell, Bugz In The Attic, Osunlade, Jazzy Jeff, Kenny Dope, Keb Darge, DJ Scratch (EPMD), DJ Shadow & Cut Chemist. He's a true showman – versatile as ever.

MONALISA(LA)
Monalisa is best known as a valued member of the Los Angeles hip hop community and a supporter of quality music and events across the country. She is a representative of the world famous Project Blowed family, the only female member of Los Angeles based collective 2000 Crowz, and an original attendee of LA's Good Life Cafe (http://www.goodlifelove.com). As a music promoter, Monalisa has worked with The Alkaholiks, Wu-Tang Clan, OC, Volume 10, The Pharcyde, Slum Village, and many more. She is a student of some of the most well-respected DJs in Los Angeles and nationwide, including Zulu King Mark Luv, Vicious Lee, A-Ski, Kiilu (KPL), The Beat Junkies (CA, All Day), The Pirate DJs (SF), The Beatminerz (NY), and Jaycee (ATL).v

COGNITO(LA/ATL)
Over the past twenty years, Cognito has contributed immensely to the propagation of Hip Hop culture— from concert promoter to FatBeats record store operator to touring the world as a member of the underground group Massinfluence. Most consistently, Cognito is known for documenting legendary hip hop artists such as Mos Def, De La Soul, Talib Kweli, MF DOOM and Kanye West on both still and video media. He has filmed MF DOOM for the Gorillaz live DVD, documentaries on both Talib Kweli and Goodie Mob, and recently presented his photographs captured while on tour with Mos Def in a well received gallery show at Los Angeles' HVW8 Gallery during the month of February 2010. Cognito is well known within the Hip Hop community for his ability to connect artists for significant collaborations. Examples include his roles as A&R for the Black Eyed Peas' remix album "Renegotiations", bringing Pete Rock, DJ Premier, Large Professor and DJ Jazzy Jeff to the project. Cognito also worked as consulting producer on the recently aired documentary on music sampling entitled Copyright Criminals, securing Pete Rock, De La Soul, Mr. Len & Bobbito Garcia for their priceless insight. Cognito is the co-founder of Frolab.com, a marketing, design and production collective.

POWERED BY
PRINCE*MJ
DJ SPINNA
FOOTLONG_DEVELOPMENT*KEISTAR
MONALISA*COGNITO
FROLAB*FUSICOLOGY
ECHOPLEX*LA WEEKLY*WANTICKETS

@djspinna @footlongevents @keistar @monalisa7872 @frolab @fusicology