In the last eight years, we've seen an international cultural movement rise in Los Angeles. When this movement began, an idea called Descarga was launched to relieve L.A. from separated Latin music scenes, and provided an alternative to commercial cumbia, salsa and Latin rock events. Descarga was about moving the genre forward, in a venue as open and unpretentious as a great back yard party. Inspired by the vinyl collections of Loslito, Sloe Poke and our forever brother DJ DUSK, the motivation was to fill the void and feature a wide array of lost international classics and new artists. Nine years later, Descarga stands as a reflection of the merging music and social scenes that were once divided, offering L.A. music lovers funk, soul, cumbia, afrobeat, samba, salsa, reggae, deep house and dance-driven roots music from all over the world. Now more than ever, Descarga Club L.A. is where many come to venture into new grounds to experience more from music and cultures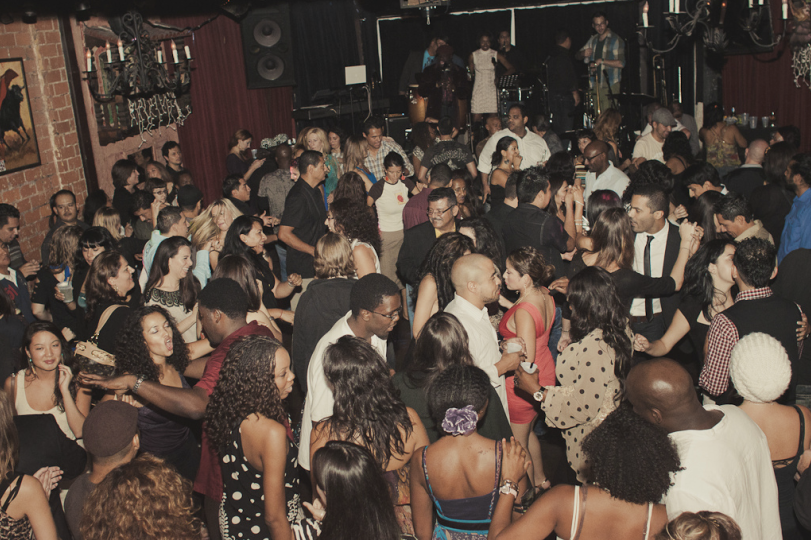 Since its inception in 2003, Descarga Club L.A. has attracted thousands of avid multicultural art and music enthusiasts, highlighting soulful Afro-Latin and world dance music, from roots to electronica. To mark this achievement, Descarga Club L.A. will host its 9th Anniversary Party on Saturday, July 14th at Silverlake's iconic night club, Los Globos.
Descarga is proud to announce its headlining DJ, Jeremy Sole (KCRW/Afro Funké/Musaics), as well as a live performance by traditional Puerto Rican bomba collective, Grupo Atabey.
Plus two rooms with Resident and Special Guest DJs Sloe Poke (La Boa), Bobby Soul (Boogaloo Assassins), Billy Goods (Boogaloo Assassins), Loslito (The Rebirth), Cee Brown (Bodega), Pablito Más (Weinberg & Goldstein), Rude 1 (Highland Sounds), Curator (Highland Sounds) and Reyes (Tropico de Nopal), spinning the best in Afro- Latin and World dance music all night.
Resident and Special Guest Djs SLOE POKE, BOBBY SOUL, CEE BROWN, PABLITO MÁS, RUDE 1, CURATOR & REYES Spin The Best In Afro- Latin And World Dance Music. Live Performance by Puerto Rican Bomba Ensemble, GRUPO ATABEY
@LOS GLOBOS 3040 Sunset Blvd. L.A. 90026
Doors 9pm-2am | 21+ | $10 | Early arrival is highly suggested.


For more information email info@descargaclub.com.
For the past 20 years, Chicago-born Jeremy Sole has been making beats since the MPC 60 was born, deejaying since rotary cross faders were the standard, and playing clubs since he was too young to (legally) get in. As a teenager, Sole's underground loft parties were packed with sweaty bodies – a culture clash at the birth of Hip Hop and House music. He matured as a turntablist in Jazz, Dub and experimental hybrid bands before the phrase "Acid Jazz" confined that sound. The rich Chicago history of Blues, Jazz, Disco and Funk were all part of his upbringing, and like a true music lover Jeremy has always reveled in the place where they all blend together. "When I was young, I spent many a night in the alleys behind blues clubs, listening to cats like Buddy Guy through the air vents. Those same nights I would be mixing with legendary Disco deejays at our downtown loft parties." Since then his obsession grew to include music from around every corner of the world. http://www.musaics.com/
Atabey represents the continuous struggle of Afro-Boricua people to maintain and promote their culture through drumming, dance and song. Bomba music is a tradition that was brought to Puerto Rico from Africa by the slaves who worked in sugar cane plantations. The music represents a mixture of religious, cultural, and poverty dynamics within struggles of life and love
.http://www.facebook.com/Atabeybomba