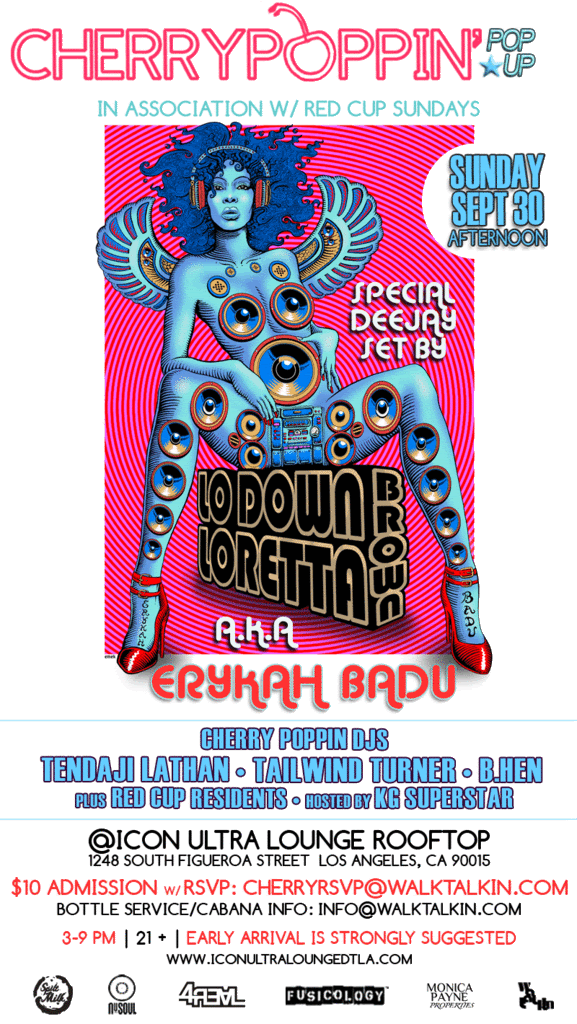 We are in the era of artists needing to constantly reinvent themselves to stay relevant to the new quick-fixed, short attention spanned audience that may not be fully aware of the impact and contribution an artists has made to our music history.
This Sunday afternoon Sept 30th a new series begins called CHERRY POPPIN POP-UP, apply named since you never know when and where it will pop-up. The first featured guest is the reinvention of ERYKAH BADU as a deejay…LO DOWN LORETTA BROWN.
It seems like these days everyone is an instant DJ whether you can blend or not, or even select music that moves you that will move the listener. If how she has approached her career is any indication, ERYKAH BADU aka LO DOWN will take us on a musical journey that matters to her, which will resonate to the participating audience. She is not one to placate or compromise, she is as sincere an artist and entertainer as they come so we can expect to be taken on an emotional ride as she has taken us for the last 15 years.
CHERRY POPPIN POP-UP – 3-9pm
@ ICON ULTRA LOUNGE
1248 South Figueroa St. Los Angeles CA 90005
$10 w/ cherryrsvp@walktalkin.com
…So to the newbies who may now be discovering Erykah through Loretta, we take you back to the beginning…1997…"ON & ON" which launched a whole new movement and shifted the soul music scene towards a new exploratory direction.