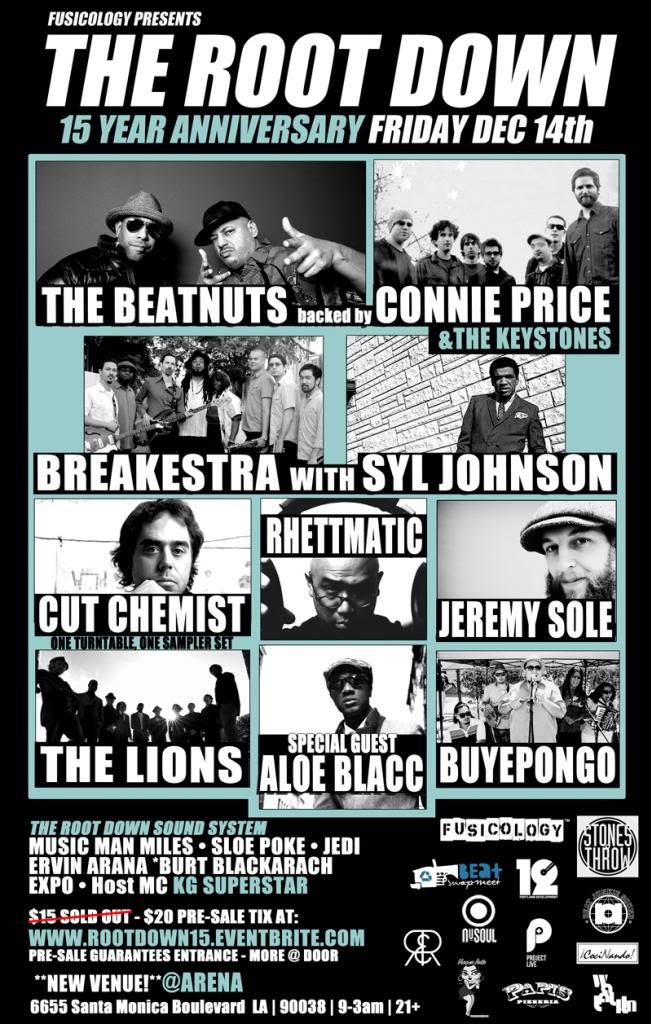 When the Root Down launched 15 years ago Los Angeles was void of good events that featured funk, soul, hip-hop, breaks…a diggers and dancers paradise.There was also a need for up and coming progressive artist to be featured on a sympathetic stage. Artists like BLACK EYED PEAS, PEOPLE UNDER THE STAIRS, ANTI-BALAS, BREAKESTRA, CUT CHEMIST, ALOE BLACC, MAYOR HAWTHORNE, DJ SHADOW, to name just a few cut their teeth on the Root Down show top.
Owning the Thursdays as the "to-go-to spot" for over a decade The ROOT DOWN celebrates its 15 year with mini-fest style event featuring many of the artist who got their start with them. If you have never experienced a Root Down event this will encompass everything you have missed out on and this will be for sure one not to be missed.
THE ROOT DOWN celebrates 15 years with a mini-festival style event- 3 areas featuring artists/djs that have graced our stage. All going down FRIDAY DEC 14th at ARENA!
SYL JOHNSON backed by THE BREAKESTRA
THE BEATNUTS backed by CONNIE PRICE & THE KEYSTONES
THE LIONS
CUT CHEMIST-1 Turntable, 1 Sampler & Skills
JEREMY SOLE
special guest performance by ALOE BLACC
BUYEPONGO
Along with the ROOT DOWN SOUND SYSTEM in full effect
Music Man Miles, Loslito, Sloe Poke, Ervin Arana, Jedi, Expo and Burt Blackarach
Hosted by KG Superstar
$15 tix sold but $20 pre-sale still available at:
Pre Sale tickets available @ www.rootdown15.eventbrite.com
more @ Door